Episode #67 Stepping into the Spotlight w/ Alexia Vernon

Welcome to the show!
I'm so excited about my guest today!  With me on the show is Alexia Vernon whose work I have followed and admired for some time.  Alexia is a master speaker coach and an outstanding, sought after speaker herself.  
In today's episode, Alexia and I talk about:
Finding your "Moxie" and stepping into the spotlight,
How to get past fear and step into vulnerability,
Who needs to share their story,
What the greatest challenge is in getting started as a speaker,
Insights into Alexia's own speaking journey and more!
I know you are going to love this episode just as much as I loved doing the interview.  If you ever wanted to be a speaker or even if you are just trying to muster the courage to use your voice, this episode is for you!
Want to learn more about stepping into your voice power?  Sign up for my live free training, The Voice Formula at www.captivatetheroom.com
Guest Bio Alexia Vernon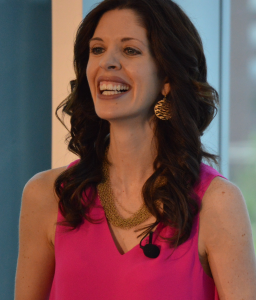 Branded a "Moxie Maven" by the White House for her unique and effective approach to developing the next generation of female leaders, Alexia Vernon is a go-to thought leader on women's communication and leadership development. 
As a leadership and public speaking coach, Alexia partners with CEO's, start-up founders, New York Times bestselling authors, media personalities, change agents and entrepreneurs to create transformational keynotes, TED-style talks, and live events. She is also the creator of the Your Spotlight Talk speaker training program, the host of The Spotlight MasterTreat and the leader of the Spotlight Speakers Collective.
Alexia's expert advice at the intersections of career development, communication, leadership and women's empowerment has been featured on/in media such as CNN, NBC, FOX Business News, the Wall Street Journal, Inc., European Business Review, Forbes and Women's Health Magazine and Alexia has presented on a range of stages including the UN during the Commission on the Status of Women, INBOUND, the National Association of REALTORS (NAR) and the Association for Talent Development (ATD). Alexia is the author of the book 90 Days 90 Ways: Onboard Young Professionals to Peak Performance (ATD Press), a Women's Media Center SheSource Expert and a recipient of the International Women's Forum of Nevada's Rising Star Award.
You can find out more about Alexia here:  www.alexiavernon.com
On Twitter:  https://twitter.com/AlexiaVernon