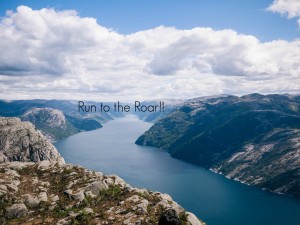 Please forgive me; I'm on a bit of a face your fears tangent. I guess you know where I'm at in life! I've got a concept that I teach my one on one clients and in my membership program (you should check it out). It's called Run to the Roar. The concept, face your fears like a boss! Here's a little secret, while I'm not afraid to have the spotlight shine on me…ever, I do have lots of fears. At one point several years ago I became paralyzed, literally could not make a decision. I'm the single mother of a child whom I've recovered from autism, yes, recovered, talk about run to the roar! For years I never was afraid, I just moved forward and did what had to be done, never fearing hearing no or anything else. Once my son was recovered, I somewhat lost my identity and became terrified of any making any decisions. It was driving me crazy! I understood the concept of facing fears, sure, no problem, but that was not enough for me because I had some Goliath size fears. One day on the phone my mother said to me, "run to the roar Tracy, because the fears aren't going anywhere until you do". She was right. The roar to me was HUGE, just as big as my fears. I started taking my fears head on, running right to them and do you know what happened? They weren't so big after all and just about everything I thought was going to happen, the bad stuff, well, it didn't!
Because I had such success with this concept and because my clients were indeed themselves paralyzed, I started using it in my consulting. Guess what, it worked! Many of my clients are visual, all of them are smart beyond measure, they all were dealing with huge fears of speaking, presenting, getting on camera, even just communicating with challenging people in the office. Understanding the concept of the fears not going away and the idea of running right up to them and dealing with them head on, in the moment resounded and what it also did was it created a framework to face fears and truly get past them. Because, when you run to the roar, the big old fear and face it head on, you see that what you thought was going to happen, the horrible outcome, 99% of the time doesn't happen anyway.
So, whatever you are afraid whether it's presenting live, doing a video, speaking on a podcast or guest show or even day to day communication in business and in relationships, RUN to the roar. Face the fear head on and get to the other side. It is not until you get to the other side of your communication and/or speaking fear that you can truly, truly get your message out loudly and proudly for the entire world to hear. I've said it before and I'll say it again, someone out in the world, possibly lots of someone's, really need to hear your message, don't rob them of that, RUN TO THE ROAR!