Transform Your Voice 3 Hour Workshop
Sunday, December 10th 4:00 p.m. PST
**This workshop is more focused on voice for video but will address each participants individual voice issues regardless of whether they do video or not.
OR Saturday, December 16th at 10:00 a.m. PST
**This workshop is less focused on voice on video but will be addressed if that is a personal concern for you.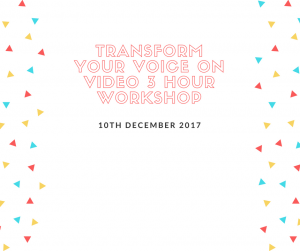 2018 VISIBILITY
That's what it's all about.  This is the watershed year, people are ready to use their voices and be heard.  Does that include you?
Are you ready to catapult your business and your career?  I know you are and the way you have to do that is to get visible and that means on video, webinar and live stream.
This is the year to better yourself, your business, your lifestyle!
Imagine if you instigated positive changes BEFORE the new year had even begun?
Are you an entrepreneur who knows you need to be on video (or have even tried) but you just aren't comfortable?
Do you avoid video because you don't like the way you look and sound?
Are you a small business owner and have a deep understanding of what getting visible can do for your bottom line but can't get into action to get in front of the camera because of the way you sound?
Or maybe you are an employee and your boss has been insisting you get on video, webinar's and live streams but you'd really rather just lose your job than do that?
I get it!
It's an unusual concept, but an important one.
In an age where everything online is about viewership, exposure and getting your message across in an efficient, accessible, user-friendly way you know it's key that you sound confident, captivating and compelling.
You aren't feeling that so you are just avoiding it all together.
Time is up!
I'm Tracy Goodwin and I've been a television actor for many years and have over 25 years experience in the vocal coaching of CEOs, Entrepreneurs, and Celebrities from all around the world.  I want to help you sound and feel more confident on camera. To help you captivate your audience and engage your desired response.  I want to facilitate you taking the next step in your journey to living the fullest, happiest, most successful life possible.  To do that I need you to breathe, and be open to understanding the power of finding your true voice.
It's not about what we say, it's about how we say it and that's hard to do when you're staring at a lens or looking at the reflection of yourself.
When you've gotten up the nerve to speak or even get on video have you found any of these to be true:
Your voice falls flat especially on video,
You can't breathe to connect to your voice,
You say "um" a lot,
You don't smile,
You don't know what to do with your body, your hands, your script,
You are stuck up in your head,
You aren't touching the emotions of your audience, not connecting with them, not engaging them.
Some get so nervous being on camera that they just rush through like a freight train, hoping the nightmare will end, and they can return to the safety that exists on the other side of the camera.
The subconscious mind of your viewer picks up on all of that.
In this 3-hour workshop, we will change all of that.
During our time together I'll teach you the exact techniques I use with my celebrity TV clients.
I'll show you exactly how to get rid of "um" for good.
We'll discover what your patterns and go to's are and get rid of them,
We will find out where your voice is stuck and get it flowing,
We will get you connected to the breath so that your audience can connect with you on a deeper level.
This workshop is custom tailored and is limited to a small number of participants for maximum individualized training.
I'll address your specific issues and give you a plan for creating a new delivery on camera that you and your audience will love.
Sound, feel and look more confident,
Use your voice in a captivating way to touch our emotions,
Get rid of the bad voice habits that are getting in your way.
3-hours, $97.00
Don't wait another year to get comfortable on camera, you can't afford it!
Are you ready?  Then what are you waiting for, sign up below:
The power is yours. Be your best self. Captivate the room.